On August 23, the students of the RFL "Leader" school gathered for a workshop in the culinary school "O ede". Within a few hours they learned about the most popular Belarusian dishes, cooked а dinner by themselves and talked in a pleasant company.
Students from 6 countries: Italy, Great Britain, Belgium, Turkey, the USA and Korea mastered in preparation of Belarusian traditional dishes. Some students had only basic knowledge of Russian language, others could already communicate well with chefs and with each other. Two teachers – Elena Yablonskaya and Anna Dolgovich also took part in the event.
The workshop consisted of three parts. In the first part the chefs were talking about how the workshop would be conducted, what would be required from the participants, they also shared some culinary secrets. Next part was the process of cooking. The choice was made in favor of red borsch, draniki and thin pancakes "nalistniki" with apple filling.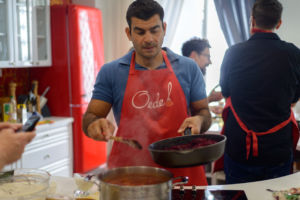 As a pleasant end of the evening, everyone gathered for a dinner, tried Belarusian dishes of their own cooking and shared their impressions. All students left reviews on the RFL "Leader" school and on the event.
Our students regularly participate in workshops and trips all around Belarus. It allows to learn our culture and practice Russian in everyday situations. Do you like this format of learning? Come to us to learn Russian! Register in the form below or call +375 (33) 3-296-296, +375 (29) 188-30-00, +375 (25) 7-352-352.